Car Buying, Car Shopping, Dealerships, New and Used Cars, Information

When it comes to car buying, it is a known fact that most people have a difficult time finding the right car. Based on results from Kelley Blue Book's Recent survey, women spend an average of 75 days, while men spend an average of 63 days to research and buy a vehicle. Sherrice Gilsbach, Associate Online Editor of Autoweek shares some
information to be prepared for your next vehicle purchase.
Gilsbach advises some basic questions you need to ask yourself, to determine which car works best for you:
- How many people do you usually travel with? (to determine passenger capacity)
- How much gear do you need with you at all times? (to determine required cargo volume)
- Is there a drive feel you prefer? Something fast and furious or soft and comfy?
- Will this car need to tow anything?
- How long do you plan to keep the car and will it fit your life over the long haul?
- Cross-reference your needs with the professional's favorites, and you will likely find yourself in a new-car-bliss.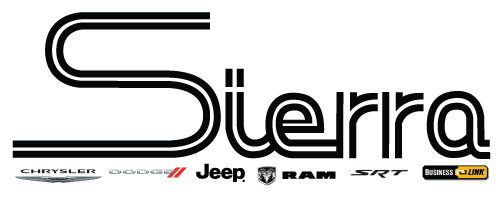 After you ask yourself these questions and get a rough idea of the kind of vehicle that's right for you, Gilsbach advises to start with an "Honest budget." Most people "get approved for a significant loan amount because of a decent salary and/or high credit score. Then they buy a car with high monthly payments only to find shelling out that dough each month really cramps their lifestyle," Gilsbach rationalizes.

To ensure that you don't get trapped into paying a monthly payment that you can't afford, Gilsbach advises: "Consider all of the monthly costs associated with owning a car, like monthly loan/lease payment, monthly insurance cost, monthly fuel cost, maintenance budget (whether new or used, all vehicles require regular maintenance, including oil and filter changes, tire rotation, etc.) and parking costs depending on where you live."

Here at Sierra Chrysler Jeep Dodge Ram we take pride in providing excellent service to our community and providing people with an excellent experience when buying cars, parts, or getting their vehicles serviced. We're the highest reviewed CDJR dealership in Southern California per Google Reviews. Give us a call at (888) 805-2075 if you have any questions about your next vehicle buying experience.